Did you know that according to the International Diabetes Federation, type 2 diabetes affects 537 million people globally, and this number is projected to reach 643 million by 2030?
Let's delve into the realm of health as we unravel the profound impact of type 2 diabetes. This prevalent type of diabetes extends its reach, influencing various aspects of our well-being. Join us on a journey to understand the intricacies of this condition, explore its consequences, and gain insights into effective management. The ripple effect of type 2 diabetes is far-reaching, and our exploration aims to shed light on its multifaceted nature.
Table of Contents
Key Points
Here are some of the key points to keep in mind when dealing with type 2 diabetes:
Insulin Resistance
When you have type 2 diabetes, fat, liver, and muscle cells do not respond properly to insulin, a hormone that regulates blood sugar levels. This is called insulin resistance. Hyperglycemia is also known as high blood sugar or high blood glucose. It can occur in people with diabetes, but it can also occur in people without diabetes.
Insulin resistance, which has been attributed to elevated levels of free fatty acids and proinflammatory cytokines in the plasma, leads to decreased glucose transport into muscle cells, elevated hepatic glucose production, and increased breakdown of fat. (Source: emedicine.medscape.com)
Risk Factors
Various factors, including obesity, a sedentary lifestyle, an unhealthy diet, genetic predisposition, and ageing, influence the risks of type 2 diabetes. These factors can lead to insulin resistance, a key factor in developing type 2 diabetes.
Factors associated with type 2 diabetes, such as high cholesterol, elevated blood glucose levels, and insulin imbalance, along with lifestyle factors like lack of physical activity, excessive alcohol intake, smoking, and high blood pressure, contribute to the formation of plaque in the arteries.
Symptoms
Patients with type 2 diabetes often experience heightened thirst, frequent urination, exhaustion, delayed wound healing, confusion, drowsiness, and weight loss. However, many patients with type 2 diabetes are asymptomatic.
Other symptoms often present at the time of diagnosis include a history of blurred vision, itching, recurrent vaginal infections, loss of taste, and fatigue. However, many people have no symptoms for the first few years and are diagnosed during routine tests.
Management
The basics of diabetes are A1C, blood pressure, and cholesterol, which should be well-controlled to manage diabetes and reduce the risk of heart disease. Regular blood sugar testing is essential for early detection and treatment to prevent complications.
HbA1c is a measure of the amount of glucose attached to your red blood cells over a three-month period. This is a direct measure of your risk of long-term health problems related to diabetes.
Prevention
The World Health Organization has set standards for medical care for individuals with type 2 diabetes. Lifestyle modifications are crucial to preventing or delaying the onset of chronic disease. By adopting a balanced diet, engaging in regular exercise, maintaining a healthy weight, and managing stress, individuals can effectively manage and even avoid the condition.
Seeking guidance from healthcare professionals is important in developing a personalized plan. Taking proactive steps towards a healthier lifestyle reduces the risk of type 2 diabetes and improves overall well-being.
Health Impact of Type 2 Diabetes
Complications of diabetes can have profound long-term consequences for health, including:
Cardiovascular Disease: Individuals with diabetes are at increased risk of coronary artery disease, stroke, and other vascular complications.
Macrovascular complications comprise coronary artery disease. Additionally, they involve peripheral vascular disease. Besides, if hypertension and hyperlipidemia (abnormally high levels of fats and lipids, including triglycerides and cholesterol) are treated aggressively, the risk of macrovascular complications decreases as well. (Source: emedicine.medscape.com)
It also increases the chance that a blood vessel in your heart or brain will become blocked, leading to a heart attack (myocardial infarction) or stroke. (Source: nhsinform.scot)
Kidney Disease: Diabetic nephropathy is a serious complication of diabetes that occurs when high blood sugar damages blood vessels in the kidneys, leading to kidney damage and bleeding. Diabetic kidney disease can lead to kidney failure, which is life-threatening.
Diabetic neuropathy: Nerve damage can cause pain, tingling, and numbness, affecting the limbs and other parts of the body.
Peripheral neuropathy can cause problems in the digestive system, urinary tract, blood vessels, and heart. (Source:mayoclinic.org)
Diabetic Retinopathy: Diabetes can lead to vision problems, including blindness, due to damage to the blood vessels in the eyes.
Diabetes and Skin: One of the skin issues for people with diabetes is very dry skin on their feet. High glucose levels over time can affect skin health, making it prone to cracking and infection.
Emotional Health: Diabetes can have a significant impact on mental health. People with diabetes are at increased risk for mental health problems, including depression, anxiety, and eating disorders.
Diabetes and Aging: In the Diabetes Control and Complications Trial (DCCT), patients with elevated levels of advanced glycation end products had higher rates of microvascular complications. (Source: diabetesjournals.org)
Gestational diabetes: Women are at an increased risk of complications during pregnancy and at delivery. (Source: who.int)
Diabetic ketoacidosis (DKA) is a severe and life-threatening complication of diabetes, often in Type 1 diabetes. It results from a lack of insulin, causing high blood sugar and the accumulation of acidic ketones in the blood. DKA symptoms include thirst, frequent urination, and rapid breathing, and can lead to a coma if not treated promptly with insulin and fluids.
Quality of Life: Blood glucose control over time can be challenging and impact one's overall well-being.
The pathophysiology of type 2 diabetes is the study of how diseases disrupt normal bodily functions, focusing on the changes that occur in cells, tissues, and organs. It is essential for the effective diagnosis and treatment of diabetes since metabolic disorders occur.
Early diagnosis, lifestyle modifications, and proper management are key to mitigating these long-term effects.
Economic and Social Issues
Adults with type 2 diabetes exert a substantial and long-term economic burden on individuals, healthcare systems, and society. This impact includes:
Healthcare Costs: The expenses associated with managing diabetes, including medications, doctor visits, and hospitalizations, are significant and tend to rise over time.
Complications: Long-term complications such as cardiovascular disease, kidney problems, and neuropathy call for costly treatments and interventions.
Lost Productivity: As elevated levels of diabetes affect one's ability to work, there can be a considerable loss of productivity, leading to income reduction and potential reliance on disability benefits.
Indirect Costs: These include expenses related to informal caregiving, transportation to medical appointments, and the emotional toll on families.
Impact on Healthcare System: Lack of blood glucose control places a negative impact on healthcare systems, requiring resources for prevention, management, and research.
Addressing the long-term economic impact of type 2 diabetes involves preventive measures, effective management, and support systems to mitigate these financial implications.
Lifestyle Modifications
After diagnosis, lifestyle changes for prevention should include healthy diet changes that require eating well-balanced food that emphasizes whole grains, fruits, and vegetables while limiting sugar and processed foods. Physical activity, such as walking, jogging, or cycling, can enhance the body's response to insulin and decrease the likelihood of developing diabetes. It is essential to keep a balanced weight. Practising mindfulness and relaxation techniques can be beneficial for managing the risk of high blood glucose levels by reducing stress.
Medications and Insulin Therapy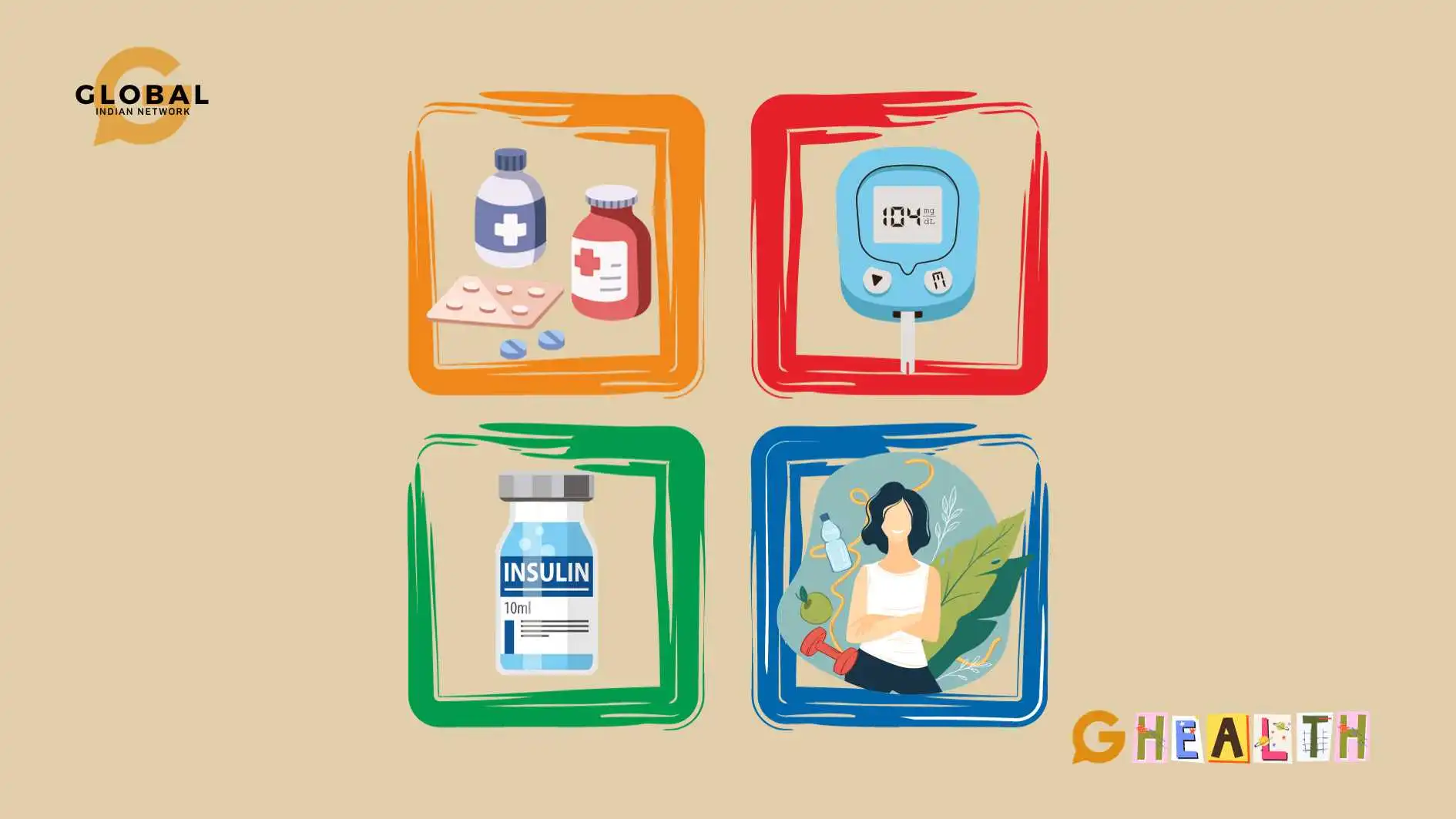 Treatment of type 2 diabetes should be as per the advice of a health professional.
Oral Medications: Glycemic control can be managed effectively with medications that aid in reducing blood sugar levels and enhancing the body's use of insulin.
Insulin Therapy: Insulin injections or pumps may be necessary in certain situations to effectively control blood glucose levels.
Blood Sugar Control: Regular monitoring of blood glucose levels is crucial for adjusting medications and providing optimal control.
Lifestyle Continuation: Patients must continue a healthy lifestyle with diet and exercise alongside medications to manage the chronic disease effectively.
Regular Check-ups and Monitoring
Regular check-ups are critical for diabetic complications. Medication adjustments can be carried out effectively, thus saving time and money. The exposure of other organs to high sugar levels must be reduced, and early intervention is the right fix. Patients with type 2 diabetes can learn self-care, as most do not know they have a diabetic condition until late.
Conclusion
The long-term impact of type 2 diabetes is substantial and multi-faceted. Its long-term implications underscore the importance of proactive prevention and effective management. It is a condition that individuals must address holistically, encompassing physical, mental, and financial aspects, to maintain a better quality of life.
FAQs
What is the strategy to prevent and control type 2 diabetes that considers both health and economic factors?
A comprehensive strategy to prevent and manage type 2 diabetes includes educational initiatives for awareness, affordable healthcare and medications, incentives for healthy behaviours, and workplace wellness programs. These actions aim to reduce disease occurrence, improve outcomes, and reduce financial burdens.
What is the long-term economic impact of type 2 diabetes on individuals and society?
Assessing the enduring financial consequences of type 2 diabetes on individuals and society reveals substantial expenditure on healthcare, reduced productivity, and additional expenses linked to transportation and caregiving.
What are the 10 warning signs of diabetes?
Ten warning signs for people with type 2 diabetes include heightened thirst, frequent urination, exhaustion, delayed wound healing, confusion, drowsiness, weight loss, blurred vision, recurrent vaginal infections, and loss of taste.